"Go to the Gemba!"
–One of the first things that the "Lean" philosophy teaches us. We all have read a lot about Lean or TPS; we have called consultants and trainers to teach us the principles, and have tried various methods and tools. This is good! But have we ever gone and seen by ourselves how TPS  really works?
Overview of the Workshop
–Duration: 4 days
–Factory tours: Toyota plants, suppliers and different industries
–Practical exercises: Standard work / Flow
–Visit of the Toyota Commemorative Museum of Industry and Technology
–Internal theory and review sessions
Trainers
–Japanese Sensei – Former Toyota Production Manager
–2 experienced Lean Associates Trainers
Unique Experiences
–Through our long lasting partnership with GPS, we have the unique opportunity to get deep insights into the Toyota production sites along the supply chain, that are not usually open to the public.
–Additionally we will visit companies in different industries to demonstrate that TPS works outside of automotive manufacturing as well
–On top of that, we will experience former senior Toyota production managers and TPS specialists, getting first-hand information and understanding about what makes them tick.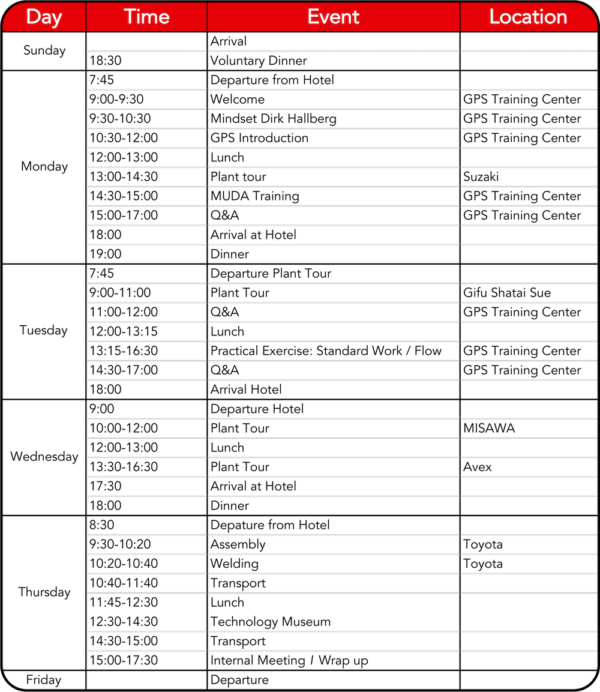 Please Note:
–Agenda is customizable based on the needs of participants and respective companies at the time of booking the workshop
–Please contact us directly for the latest agendas and workshop dates